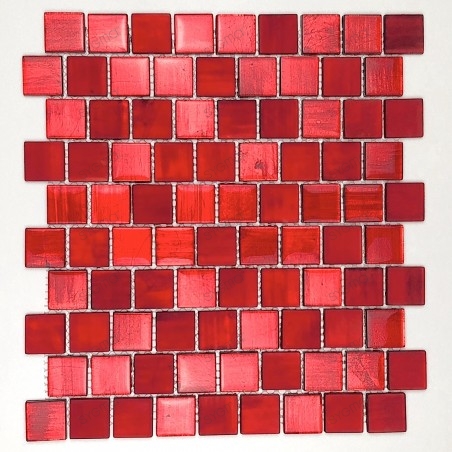  
Glass mosaic for bathroom and shower or kitchen wall model Drio Rouge
In order to live in a pleasant environment, it is important to fine tune your interior design.
All rooms, from the living room to the kitchen, bathroom and shower, should be personalised. The colours, the choice of finishes and effects are of great importance in the style of the home.
Glass mosaic is one of the materials recommended by decorators to give style to a space. Focus on the characteristics of a trendy type of mosaic tile.
Glass mosaic: perfect interior design
The metamorphosis of traditional solutions is an excellent way to create a timeless and elegant interior. Mosaic tiles for the bathroom, swimming pool, kitchen and shower, etc. Available at Sygma-Group, we offer a wide choice of patterns, colours, sizes and even finishes. 
We offer solid and multicoloured glass mosaics in a very wide range of colours and patterns. Certainly, these categories will include mosaics that will blend well with any colour scheme in the bathroom, kitchen or other rooms.
We have been active in our field for many years and our experience has enabled us to understand the needs of our customers and to offer the best products, thanks to which your homes are finished in an elegant manner. Our specialists will be happy to answer all messages and help you choose a range of products that will allow you to implement your bathroom, shower and kitchen projects.
Excellent quality and a variety of colours, shapes and styles that will allow for even the most daring compositions. This is how you can sum up the interior mosaics that you can find in our offer. We are sure that you will choose the right one for your interior design from our proposals.
Perhaps you are only looking for a small accent that will underline the uniqueness of your interior, or perhaps you are ready to create a monumental decoration that will leave no one indifferent? The choice is yours, and with our assortment you can easily implement any idea.
Glass mosaics have been known and used for centuries, but their timelessness means that they are also used today and fit even the most modern interiors. It is worth remembering that these glass decorations will be an excellent solution in rooms decorated in different styles.
They will give a minimalist interior a unique character, beautifully underline the atmosphere and charm of the glamorous style, and thanks to them, a rustic room will gain even more charm and atmosphere. Whether your room is large or small, mosaics will work in any case.
Data sheet
Material

Recycled glas

Quantity

1 sheet

Colour

Red

Chip size

3 x 3 cm

Sheet size

28,6 x 31,8 cm

Thickness

6 mm

Quantity to make 1sqm

11 Sheets for 1 sqm

Aspect

Glossy and Matt

Surface

0,09 Sqm