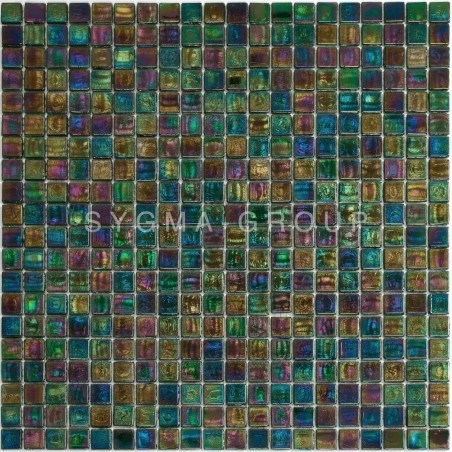  
Glass mosaic for bathroom and shower or kitchen wall model Imperial Emeraude
Classified among the oldest forms of art, the mosaic has stopped evolving and improving over the years. Since then, it has been available in several components, marble, mother-of-pearl, stone, precious glass, but the glass of glass offers a more exceptional rendering in all rooms like a bathroom, a shower or as a kitchen Backsplash.
The glass mosaic: a decoration trend sublimating your home.
Whether it's up to the bathroom, a swimming pool, a spa, a steam room or other rooms of the house, these tesselles with highlights and glossy brilliances will certainly seduce you. At Sygma Group, we offer magnificent creations and exclusive models available in several colors, finishes and formats. Vogue colors to give a tendency to tend to your kitchen, showers and bathroom, this flagship piece of decoration invites you home for really unique styles.
A flagship piece at a reduced price for coatings trends.
The rooms in your home deserve a specific style and the tessers are undeniably in the front line for a coating worthy of the name. It offers incredible properties and countless possibilities for customization. Its non-slip and wear-resistant properties give it the advantage of being sustainable, comfortable and secure.
It is the coating to be preferred! Depending on the desired rendering, this "ready-to-rest" piece adapts to your needs, your desires and your requirements. You can dial the decor of your dreams, in multicolored and more worked version to attract the look or monochrome to standardize or for more refined and elegant decorations. Harmonize the shades according to your desires! This coating has an exceptional aesthetic to offer a stylish, unique and original rendering to your decoration.
Free your "creative soul" by keeping contemporary fresco or work in your favorite places! At Sygma Group, everything is there to satisfy you and even innumerable products in stock! To have already an idea about the colors, the quality, the finishes, and the dimensions of the tesseles, order samples enough to imagine the final rendering sought! You can also discover a range of coating on the spot from all its facets and start with samples.
With Sygma Group, choose the ideal coating becomes a breeze !
Individuals, professionals and even interior designer, let yourself be tempted by our exceptional products! At Sygma Group, the decoration is a business case, we offer coatings with a wide panel of colors to create various and original atmospheres for the development of your bathroom, shower and kitchen. With these multiple combinations, these coatings offer an infinity of possibilities to dress up thousand reflects both inside your home or match with just about all models of outside tile.
Whether for aesthetic or practical reasons, the tesselles are your best allies! For more satisfaction, we offer tails adapted to your requirements, but generally they measure less than 2.5 cm to be more flexible. In a small touch in parsimony to complete your traditional tiles or in full for a total coating, the glass mosaic makes it possible to create a unique atmosphere. This type of coating plays with volumes and contrasts to bring more character to your parts and brings out all its natural elegance.
The price is for 1 Sheet.
Data sheet
Material

Recycled glas

Quantity

1 sheet

Colour

Green

Chip size

1,5 x 1,5 cm

Sheet size

32,7 x 32,7 cm

Thickness

4 mm

Quantity to make 1sqm

9 sheets for 1sqm