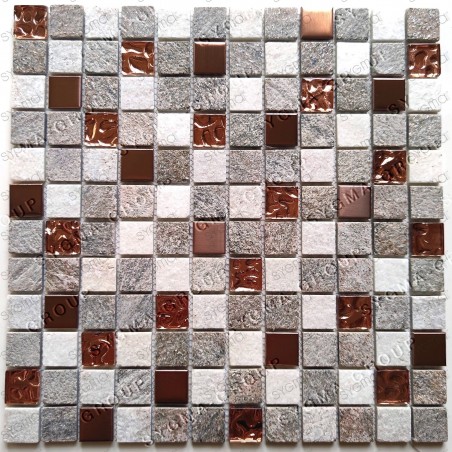  
Natural stone tile glass and metal for kitchen and bathroom HORACE
So if you are planning to redo your bathroom and kitchen walls or shower floor, mosaic is the solution par excellence. It allows you to create a unique and colourful decor that pleases the eye and guarantees a stain and moisture resistant surface.
Glass and stone mosaic: a new way to decorate
With its elegant shades, mosaic leaves its natural environment to take place in other corners of the house; in the living room or on a wall in the hall of your house. It is also used to enhance your shower, bathroom and kitchen. But not only that. Mosaic is one of the oldest decorative arts practiced by man. Nowadays, its use has become common, but in a more refined and aesthetic way.
A mixture of materials: beautiful combinations
For all your coverings, the Sygma Group online shop offers a wide range of mosaic tiles in glass, stone and metal for all your decoration and DIY projects. This mosaic allows a wide variety of combinations that combine aesthetics and reliability. With the beautiful stone and glass colours of the tesserae, the coverings will be made with elegant renderings. For example, if you choose a glass covering, the result will be brilliant and offer a feeling of great resistance.
Successful and elegant renderings 
For those who are looking for a metallic look, the ideal choice is a stainless steel mosaic tile. You can also use brushed aluminium, which provides an optimal finish. Stone tiles guarantee a beautiful finish with anti-slip quality. They are therefore ideal for walk-in showers, steam rooms and spas.... Note also that glass and stone form an attractive and very aesthetic mosaic. This combination, which is available in a variety of colours, offers many fun and pleasant decoration possibilities. 
A material for artistic creation
For people who like to push the limits of their imagination, mosaic is a real way to express themselves creatively and elegantly. Whether it's for a fresco, a pattern or a decoration, glass and stone mosaic will always be the most suitable medium for your artistic creations.
The many qualities of mosaic have helped to move it out of bathrooms and swimming pools and make it a very reliable covering in the kitchen. Its resistance to humidity and ease of maintenance have led professionals to favour it for the creation of beautiful backsplash.
Professional and personal support
If you are looking to place an order or request samples of products that are to your liking, do not hesitate to contact the Sygma Group online shop. Whether you are a professional or a private individual, your requests will be dealt with in a timely manner. You can also benefit from a personalised service. In addition to the quality guaranteed by the shop and the availability of materials, the prices charged are the lowest on the market. In addition, it is possible to consult your products in the showroom of the shop by appointment. In the same place, you can also pick up your orders or samples that you have carefully selected on the Sygma Group website. Finally, for customers who cannot come to the showroom, Sygma group will send exclusive samples that cannot be found anywhere else in the world.
Data sheet
Material

Glass and Stone

Quantity

1 sheet

Colour

Mixture of colours

Chip size

2,3 x 2,3 cm

Sheet size

30 x 30 cm

Thickness

6 mm

Quantity to make 1sqm

11 Sheets for 1 sqm

Surface

0,09 Sqm