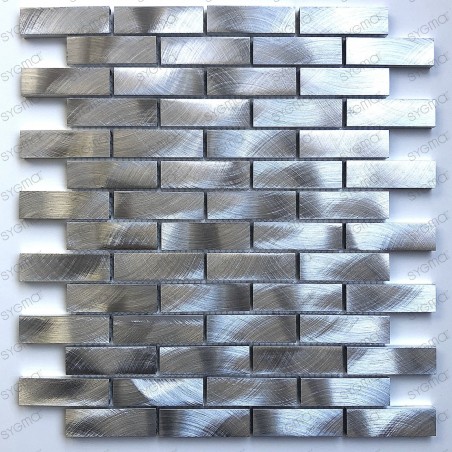  
Aluminium tiles and mosaics for backsplash and bathroom walls ATOM
Aluminium tiles and mosaics 
Increasingly popular with decorators and architects, but also with private individuals, aluminium products remain innovative and contemporary in terms of decoration. The use of this unusual but practical material allows occupants to enjoy a room with a classy, exceptional and aesthetic appearance. Thus, using this product to decorate your home in a modern style is just a more than original idea.
Modern design at home 
If you like modern and innovative designs, choose aluminium mosaic products to optimise your interior design. These products are the first choice of designers who want to give a modern look to a home. There are many varieties of products to choose from. Note that this material is suitable for all rooms in the house. You can use it for tiles or a border in the bathroom. You can also use it to finish off the backsplash in the kitchen. And why not use it for the walls in the living room or outside in the yard?
Aluminium mosaic offers a surprisingly beautiful contour. Your room will breathe elegance. You can apply this product to any surface. You can also use it on the floor and on your kitchen wall. You can also use it on your walk-in shower or on your worktop. What's more, this product is easy to clean. It is also hygienic.
Modernity, elegance and innovation are the characteristics of this particular mosaic model. So if you want to give your home a modern touch, choose this alternative, which brings authenticity to every part of the house. You also have a wide choice, as this product comes in many forms. You can even choose between many colours and patterns. Aluminium mosaic has the art of sublimating your home.
A quality product
Aluminium tile sheets are of the highest quality. They are carefully designed products. It is difficult to find products that are so meticulously designed. They are created taking into account the violence of certain unexpected shocks. In doing so, they are built to withstand extreme conditions both indoors and outdoors. They can withstand the elements and even ultraviolet rays. You will also be impressed by their resistance to moisture. So aluminium mosaics have no trouble standing the test of time. Although the product may inspire you as much, please note that it can only be installed on a smooth, sound and rigid wall. It must be dry and free of dust. You can do the installation yourself, but it is also a good idea to leave it to the experts.
Aluminium tiles at your fingertips
On our side, we offer you different series of aluminium mosaic products sold at a more affordable price. You can choose from the plethora of models we offer. Please note that we ship our products worldwide. If you need more information, you can visit our showroom. We will be happy to assist you. Please do not hesitate to make an appointment, we even offer you the possibility to leave with some samples.
Data sheet
Material

Aluminium

Quantity

1 sheet

Colour

Grey

Chip size

2 x 6,4 cm

Sheet size

26 x 30 cm

Thickness

8 mm

Quantity to make 1sqm

12 Sheets for 1 sqm

Aspect

Shiny