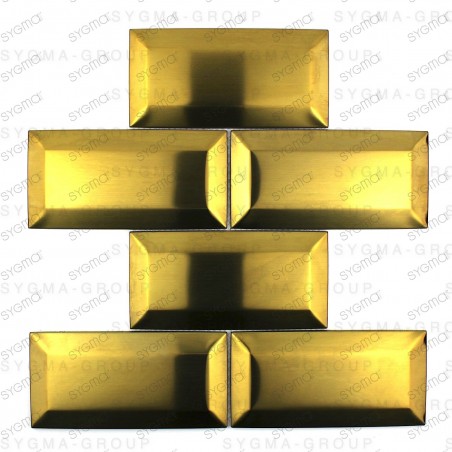  
Subway tile metal steel kitchen wall backsplash METRO OR
Sygma Group offers stainless steel mosaic tiles in special finishes.
The materials allow you to personalise both your bathroom, shower and kitchen areas, giving them the distinctive character that stainless steel provides.
Different colour options and finishes allow you to choose the most suitable choice for each application of the material.
Our mosaic tiles can be installed on the floor as well as on all types of walls.
Stainless steel also meets most of the high hygiene requirements needed in environments such as medical centres, chemical industries, etc.
The stainless steel mosaic
Do you feel like a fashionable decoration? Pure, modern and contemporary? Look no further, steel mosaic is made for you.
Very often used in the kitchens of large restaurants or by large hotel chains, steel is a material appreciated and recognized for its resistance to the test of time.
In addition to adapting to all styles of decoration, steel mosaic is ultra resistant and can easily cover an entire wall section or cover a shower or bathroom floor, for example.
Excellent bulwark against the heat, which it supports very well, you can also be tempted by the steel mosaic on the wall in a kitchen.
Anything is possible!
Here is an overview of its undeniable advantages.
The steel mosaic tile: the contemporary at the service of the practical.
Highly appreciated for its sturdiness and solidity, mosaic has been known and recognized for thousands of years as an aesthetic and totally waterproof process. With this capacity, it can be easily installed in rooms where humidity reigns supreme: bathroom, kitchen or directly on the walls and floor of your shower you can have fun creating a unique and personalized universe in no time at all.
Very easy to maintain, the steel mosaic is easy to clean with a damp cloth and your usual detergent. No more need to spend hours cleaning!
Heat-resistant, it can be placed near a hotplate, on the wall in a kitchen or as a decorative plate near a heating point in your living room or dining room.
You need to cover a large area? Do you want to modernise your shower or a section of your bathroom wall but the choice of covering leaves you undecided?
Steel mosaic can meet your needs! For a contemporary atmosphere with an industrial spirit, steel mosaic will satisfy you with its undeniable qualities of solidity and practicality in your bathroom or kitchen.
Its neutral tones can also be combined with other materials already in place and it will blend into an authentic atmosphere for example, adding a touch of modernity here and there.
Large surfaces are no longer a problem and with this type of material there is no risk of visual overload: your decoration will be richer and more unique!
Go for it! 
Data sheet
Material

Stainles steel

Quantity

1 sheet

Colour

Gold color

Chip size

7,5 x 15 cm

Sheet size

30,5 x 30,5 cm

Thickness

8 mm

Quantity to make 1sqm

14 Sheets for 1 sqm

Aspect

Mat