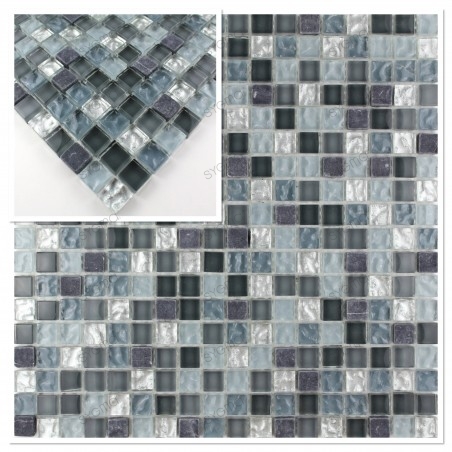  
Sample of glass and stone mosaic tiles for bathroom shower or kitchen Mezzo
A mosaic tile sample will allow you to think and talk about it around you, while trying out different colour combinations. You can choose the textures and colours that you most desire. Pretty handy, isn't it?
Mosaic tile samples 
Do you feel like putting tile and mosaic in your shower, bathroom? Your kitchen? It's perfectly possible! Nevertheless, you don't really know what to choose? No problem, it is perfectly possible to order samples. 
Why opt for mosaic samples?
It is important to know that having the possibility to own samples is quite beneficial. Why is that? Simply because it has many advantages. Here is a list of them:
- You can easily see what certain textures look like visually. Indeed, colors may not render the same effect on the site as in real life with your lighting or even with natural light.
- This will also allow you to differentiate the textures.  
- As you can see, having a sample at home allows you to make choices. You will have the possibility to define the color of your mosaic, but also the additional colors such as that of the decorative objects, for example.
- You will also be able to have a real idea of what a mosaic can render on a floor or a wall in your kitchen, bathroom or shower, for example.
It is therefore very important to take the time to think about it. Having samples will certainly help you to make the best possible choice. You won't have any more excuses to have a beautiful interior!
Find your sample for a perfect decoration!
To be aware of a color, texture and rendering is rather important. Indeed, many people do not necessarily manage to visualize these elements. If you want your decoration to be really perfect, having samples is really a good idea.
Moreover, you can easily talk about it with your friends and family. Asking them for their opinion will be all the easier if you have something to show them, for example. Moreover, it can give your entourage other ideas, which is not negligible. 
Opting for samples in the first instance will certainly be much easier for you.
Fast delivery for your greatest pleasure!
Whatever tile and mosaic samples you want, you will be delivered quickly. Indeed, whether you want stone, metal, mother-of-pearl or glass mosaic samples, we will be happy to send them to you.
 And don't hesitate to contact us if you need advice!
Data sheet
Quantity

1 sample