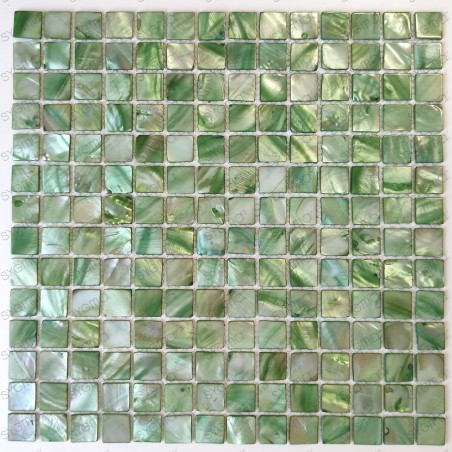  
Mother of pearl mosaic shower tiles for kitchen and bathroom NACARAT VERT
Shell mosaic tiles, a coating of rare elegance
To decorate a kitchen or a water room, we know the classic tesserae. However, there are other types of mosaics that can add originality. This is the case with the mother of pearl mosaic, which is making a big comeback in our bathrooms, showers and in the kitchen.
What exactly is mother of pearl mosaic?
As the name suggests, tesserae are made from mother of pearl, a natural material found in seashells. It can be freshwater or seawater shellfish.
The inner surface of the shells that surround the mollusks is used, these being covered with a shimmering coating. Scientifically speaking, this material is made up of aragonite (a mineral made from calcium carbonate) and conchyolin, a protein that binds the mineral elements together to create an iridescent coating.
To manufacture the parts that will be used, it is necessary to proceed in several stages. We will first immerse the shell sections in boiling water to soften them. They are then cut and cut according to the desired dimensions and patterns. Each fraction is a unique piece.
A very refined coating
These colorful fragments have been used for centuries. It is true that these are elements of great beauty. Different iridescence can appear and offer a different decor depending on the light. The natural material has a white color which can take on gray, purple or yellow iridescence. We can color the different pieces with organic dyes to give them a specific color such as very designer black, wise green or pink or even very warm brown.
These color variations allow the pieces to be worked like a real marquetry. One can thus imagine a wall entirely covered with different tesserae and forming a real painting. We can also prefer uniform creations to form a more sober and particularly chic decor. Or even play, no longer on colors, but on shapes by associating small pieces with more imposing shapes.
These tiles can also be combined with other materials to create a very contemporary matte and shine effect in bathrooms and showers.
A very successful use
This ecological material is increasingly appearing in our wet rooms and for good reason. These effects are indeed ideal for bringing refinement to a room.
The walls of a bathroom can be completely covered for a very designer space. We can then opt for dark colors that will contrast nicely with white equipment. It is also possible to place the squares or / or rectangles only on a wall or on the bathtub apron. We will then choose an original color to stand out from the rest of the wiser piece and create a unique "work of art". The fragments are also widely used to cover the walls of a shower. We can vary the effects by opting for slightly metallic or golden pieces. It is also an excellent choice for retrofitting a toilet.
They can still invest in other spaces. We can thus create a single dark pearly wall in an ultra contemporary living room. Finally, these elements are also perfect for decorating with style a hammam or a Spa. You can give free rein to your imagination with a coating playing on the different shades of color tones.
Even this mosaic is particularly resistant and very easy to maintain, it may be useful to apply a protective varnish (on a worktop, for example) to strengthen its resistance and durability over time. To learn more about this technique and find the ideal coating, discover our showroom where exclusive models are hidden.
The price is for 1 Sheet.
Data sheet
Material

Nacre

Quantity

1 sheet

Colour

Green

Chip size

2 cm x 2 cm

Sheet size

30 x 30 cm

Thickness

2 mm

Quantity to make 1sqm

11 Sheets for 1 sqm

Aspect

Pearly

Surface

0,09 Sqm