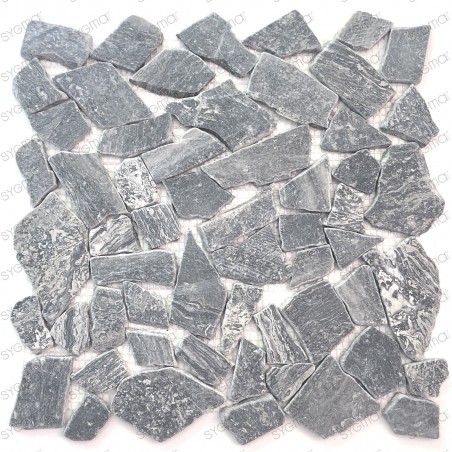  
Grey stone mosaic marble floor tiles ORIA GRIS
Would you like to install mosaic in your home? But you don't really know which one to choose? Don't panic, we are here to help you make your choice. Also, don't hesitate to contact one of our specialists so that you can get a professional opinion on your project!
Why choose a stone mosaic for a kitchen, bathroom or shower?
You are certainly looking for the ideal decoration? Mosaics make you look good, but you don't really know which one to choose! Nevertheless, if you land on this page, you are certainly interested in a stone mosaic. And this last one has several advantages which are not negligible:
- It keeps a very natural look. If you want a rather pure and very natural decoration, the stone mosaic will blend in perfectly with your decor.
- A selection of very different designs: if you want to vary the pleasures, it is perfectly possible with a stone mosaic.
- Stone mosaics are timeless: you won't see them go out of fashion. Indeed, it will be able to go through the ages without any pitfalls, which is a real advantage.
Also, it is important to note that the mosaic can be present in different rooms of your house. Let's discover this together!
Stone mosaic in your bathroom and shower!
Do you feel like redecorating your bathroom? Know that the stone mosaic blends perfectly into this style of decor! Also note that this kind of mosaic is particularly resistant, which is a real advantage when you take a shower and unfortunately you put water everywhere.
It is also a mosaic that is naturally non-slip, so there is no risk of falling. Indeed, it is not slippery. What about maintenance? It is rather easy, which should really please you!
A stone mosaic for your living space!
It's not just the bathroom that needs renewal. Sometimes the living space too! Whether in your living room or dining room, know that the mosaic will blend perfectly into your main room.
Know that there are different stones that you can perfectly harmonize with the rest of your living area. You can choose them according to your tastes, but also according to your desires!
Stone mosaic for your exterior!
Do you want to give a new touch to your exterior? Stone mosaic is ideal too. Of course, you will have just as much choice for the interior of your house as for your exterior. However, for the latter, we advise you to choose a slate, marble or quartz mosaic.
As you will have understood, it is possible to lay natural stone mosaics just about anywhere in your home. This will give a real touch of renewal, but will also make it possible to last in time. Don't hesitate to select the tiles that you want the most from our selection!
Data sheet
Material

Stone

Quantity

1 sheet

Colour

Grey

Chip size

Different sizes

Sheet size

28 x 28 cm

Thickness

6 mm

Quantity to make 1sqm

12 Sheets for 1 sqm

Aspect

Mat